Once again, using arts-based methods to enrich student learning has left a lasting impression.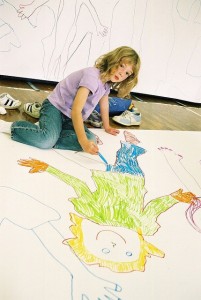 This year, I have a student (let's say it's a girl and I'll call her Bree – not the actual name of course), as I do every year, who needs a individual education plan with modified objectives to fit the child and ensure success with learning. This year, as I do every year, I'm working really hard to try to 'learn' each of my students so that I can do my best to teach them for the next 8 1/2 months. And this year, as I do every year, I do my best to ignore all the labels and pre-packaged notes that come along with kids until I formulate my own thoughts on who each child is as a person, as someone's precious son or daughter, as a human being like me.
Today my students learned all about using dry media to create tonal development so that 2D shapes on paper look like more realistic 3D objects. This lesson was to prepare them to create still life pieces a couple of weeks from now using locally grown squash and vegetables. We talked about light direction, about the importance of shape to convey an object, about how blending light, medium and dark tones can make a simple shape 'pop' out of the page and trick one's eye. Students practiced blending using stomps, art pencils and kneaded erasers. They once again showed how engaging art is. My favourite student comment of the day was "Who knew that drawing a circle and colouring it in could be so much fun!?"
At the beginning of the lesson, I did a demonstration and was reviewing the assignment. I asked one last time if there were any comments or questions. Several hands went up, including Bree's.
Now I'm still 'learning' Bree. I do make time to talk with Bree regularly, and I'm working hard to create a trusting relationship so that Bree and I can have a good year of learning together. It's sometimes difficult to understand Bree although she does seem to enjoy contributing to class discussions and lessons. Often the contributions, while clearly sensible to her, seem to be connected by the slightest of threads and it takes a bit of work to figure out the overall relevance and how her thought processes work.
After Bree raised her hand and shared her thoughts, I was thrilled to see that Bree's comments showed a complete understanding of the concepts of light direction, tonal development and the value scale. She totally 'got it', better, I think, than most of the class. And she knew it, too. There was some confidence there, which isn't always the case with her when she's sharing her ideas and thoughts out loud.
I was even more thrilled when, at the end of the lesson, Bree showed me her completed artwork. It was great. Really great. Like fully-meeting-expectations-with-a-little-added-personal-artistic-flair great. And again, she knew it. She brought it up and showed me. This is a kid who struggles to initiate conversations. But once again, confidence and happiness and pride at a job well done was conveyed in a kid who doesn't always have the opportunity to experience and/or show that in school.  As happy as it made me to see her that way, I'm guessing she felt even better than I did from the whole thing.
So once again, I was reminded about how important the visual arts can be to empowering a child. I brought home a lasting impression that this learning experience was powerful for that child in multiple ways. Not only did she create a great piece of artwork that she was proud to take home and share with her family, she shared her understanding of the related concepts orally in front of the entire class. I can't stop thinking about how much I learned about her through this today and I'm still wondering how this experience will change her as a learner in my class.
Art isn't just about the drawing. It isn't just about the shading or the shape or the fancy pencils that blend and smudge. Art is about confidence and empowerment and an opportunity to speak up and share your ideas with others. It's about a different way of thinking that allows the openness needed for all kids to find their space firmly within it's wide open boundaries. It's a vital component to a child's overall cognitive, social, and emotional development. It's a way of teaching and learning that kids love. It has the potential to create a powerful lasting impression.
Photo by moostive accessed October 24th, 2013 from Flickr.