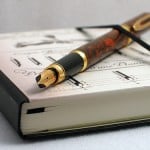 I'm seven days in on 31 Days to Being a Better Blogger.
One of the best things about self-directed learning is that you don't have to fit your learning into the larger agenda of outer influence. Life is busy and I was happy to read that others participating in the challenge are more focused on the learning that the 31 day time frame. After all, it is the learning that's important. Personally, I would rather take more time and maximize the experience. Besides, no one actually specified 31 days in a row…
Here are the tasks I've completed to date:
Day 1 – Email a New Reader – My 'new reader' was someone I already knew, which is more at my comfort level, but I will take the step and email more readers unknown to me for a couple of reasons. First, I think it is a great way to continue conversations. Second, I'd like my readers to know that I appreciate their comments and I value their opinions. And, finally, I was on the receiving end of an email from a blogging conversation myself last summer and it was empowering to have someone take the time to contact me (thanks Jan!).
Day 2 – Run a 'First Time Reader Audit' on your Blog – I'm lucky that one of my siblings is very tech savvy and has given me some great feedback. I think I will push one step further after reading other participants reflections and get another first time reader to do an audit.
Day 3 – Search for and Join a Forum – Darren Rowse is right, this is a great way to build one's PLN. I belong to Classroom 2.0, Learning Unleashed, BC Literacy Forum, Art Education 2.0 and my latest favourite, Images4Education. You do get exposure for your blog, plus your own blogging space within the ning itself, not to mention all the great learning possibilities that can arise from a group of like-minded individuals gathering together in one online space.
Day 4 – Interlink Archived Posts – Now that I'm building up the number of posts I've written, I have been able to continue themes that I'd already written on. And, just to be fancy, I interlinked archived posts in this post. Did you find them?
Day 5 – Conduct an 'About Page Audit' – I did this today. I'd like to add a photo of some sort, or maybe a different kind of visual (perhaps a Wordle?).  I'm happy with what it says about me for now.
Day 6 – Email an Old Time Reader – I think this is a natural extension of the conversations that get started from commenting and co-commenting. In the past week, I've emailed three people to continue conversations that began as a result of a blogging comment exchange.
Day 7 – Plan Your Next Week's Posting Schedule – Great idea, and I'm a planner, so I tend to do this constantly for all aspects of my life (although not as much as my dad – you should see his planning system – but that's another post!). I remember Betty, Cindy and Virginia discussing little notebooks and other methods of planning during a KnowSchools week. I followed their advice and carry a little black notebook with me everywhere I go that's full of post ideas. Running out of ideas will not be a problem; my problem will be finding the time to post!
That's what I accomplished for the 31 Day Challenge this week. Next week I want to connect more with the other participants and work on that group learning experience. I still feel behind compared to many of my fellow participants (Nic was on Day 11 last Wednesday – go Nic!), but I do think I'm off to a good start! Stay tuned…
Image by Squonk 11 on Flickr.com