I am trying to keep away from the field of education this summer. Despite my mindset to avoid anything work related, I keep getting drawn in – reading a blog post here, checking twitter there (okay, all the time), and thinking that, hmm, maybe I should finish reading one of those books I bought and started during my Masters last year. The Masters year and thesis writing last summer are two reasons why I need to avoid a work mindset this summer.
Every time I start to get drawn in to professional development, I remember a tweet by Alec Couros that I saw on the last day of school:

I have a great deal of respect for Alec. He's a smart guy, and he's right. I need to resist the Ed literature. I need a detour. I need rest. I need a summer with a different purpose. I want to focus on learning "something outside of the expected". And through that, I'm going to keep my mind open to the relevancy and connections I can make to becoming a better teacher even though the purpose, the focus, will be far removed from work. Detours do connect back eventually, though, and my learning will connect back too, I'm sure, in late August when I'm preparing for the next school year to begin.
So, (don't laugh), I'm knitting, (yes, knitting…) and just started a project that is well beyond my comfort zone. I keep thinking about how I like the challenge and how I don't care if I make a mistake because I'm a beginning knitter just learning and it's a project purely for my own satisfaction. There's a whole blog post applicable to teaching just waiting to be deconstructed in that last sentence right there.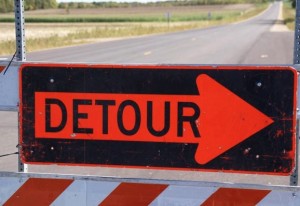 I'm also bringing my sons along on the detour. One is working on mastering the art of juggling, and not just three juggling balls, but a screwdriver, and two other, both-different, round objects. Watching his energy, enthusiasm and determination while trying to master that feat is joy to watch.
The other son is focused on reading. I'm hoping this is the summer he'll finally start to read on his own for pleasure. He's also focused on friendships and learning how to be a better friend. And finally, one thing he wants to get better at this summer – pretend wand battles with the magic wand his dad made him. Kids are so darned cute…
Other plans for us all are to draw, to build, to make crafts, to create. Also to move – bike riding, swimming, running, walking – all things the luxury of time affords. And to read, and write (I've decided blogging doesn't count – another post on that hopefully soon), and organize, and plan, and cook, and bake. Lots of diversions to choose from now that I've decided not to work this summer.
The detour is engaging so far. It's a refreshing change from the norm. It's a breath of fresh air from the heaviness of thesis writing last summer. And it's only just begun!
Detour used under creative commons license and accessed July 10, 2012.